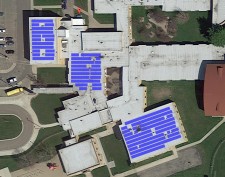 Through energy reduction and production, Martin Public School will be close to net zero grid consumption by the end of 2018
Chicago, IL , August 1, 2017 (Newswire.com) - Verde Solutions has obtained approval from the Board of Education of Martin Public Schools in Michigan to move forward with a 167 kW DC Photovoltaic solar array project which will offset 35% of the district's electrical usage and save a million dollars over the next 20 years. This project is part of a larger energy reduction project which combines energy efficiency, multiple phases of renewable energy, and storage to bring the district close to net zero consumption.
Zack Henderson, Verde Solutions' Project Manager, is a 2004 graduate of Martin Public Schools and has worked for the past 10 months to make this project a reality. "I am fortunate to be able to help bring something positive and innovative home to the community that shaped who I am. This is a way for me to repay the district for teaching me how to persevere and excel in this industry," says Zack. The project faced many scheduling obstacles but is ready to start development. The District's bond project needed to start before the whole energy project and the energy efficiency portion of the project had to begin before the solar project could continue.
"I am fortunate to be able to help bring something positive and innovative home to the community that shaped who I am. This is a way for me to repay the district for teaching me how to persevere and excel in the energy industry,"

Zack Henderson, Project Manager, Verde Solutions
Verde Solutions, founded by Christopher Gersch, is developing a plan for an endowment which would fund a scholarship program allowing students interested in the fields of energy efficiency and renewable energy, otherwise known as 'green collar' jobs to be able to continue their education. In addition, Henderson is developing curriculum for students to get hands on experience with renewable energy and "green collar" job training for the future economy.
"We hope that this project will become a model for other schools and focus education on one of the fastest growing segments of the economy. We are very excited and couldn't have a better leader for this project than hometown hero, Zack Henderson" says CEO Gersch.
Martin Public Schools' superintendent Dr. David Harnish has been a consummate supporter of the project from inception and remains the biggest advocate for renewable energy in the county. "As superintendent, I am pleased that we are moving ahead with the solar initiative phase 1. With an intention to reduce Martin Public School's carbon footprint on the environment, we are modeling an example of responsibility for our students and community. The Board's collaborative work with Zack Henderson and Verde Solutions illustrates its commitment to energy efficiency while committing to a green educational environment. I am pleased that our Board supported this initiative right from its conception, and I truly believe that generations to follow will benefit from this environmental investment at Martin." Says Dr. David Harish
PSG Energy Group is the renewable project engineering and construction partner working on this project with Verde Solutions. They have installed over 100mW including several schools. Construction will begin soon prior to the start of the school year. There will be a display in the lobby of the high school once the project is complete that showcases real time energy production
Facts:
· Project Size: 176-188 kW DC (final design pending)
· Generation: 222,259 kWh annually
· Percentage offset: 35-40% of historical energy expenditure
· Savings: Around $942,569 over the next 20 years above the lease cost of the system.
· Finance Mechanism: LPA (Lease Purchase Agreement) Allows the project to be owned in 15 years and cash flows positively with savings. Allows for no capital to be expended.
· Total Project Plan: Energy reduction and production taking Martin Public Schools as close to net zero grid energy consumption by the end of 2018.
Verde Solutions is a 360-degree energy consulting and development company founded in 2012. Verde has installed over 600 green projects in 42 states and is committed to partnering with customers to bring best reduction and production strategies available using the latest technology and finance methods.
Chris Yurko
​Director of Renewables ​
Zack Henderson
Project Manager joined Verde Solutions in 2017 to manage and grow the renewable portfolio.
Source: Verde Solutions LLC
Share: